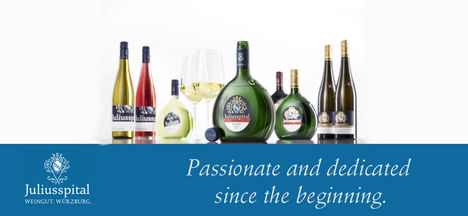 The wine estate Juliusspital has been a part of the foundation Juliusspital since the beginning. For over 440 years, profits generated by the wine estate have always gone towards the social challenges of the foundation.
Juliusspital is large - with around 180 hectares of vineyards, we are actually the second largest wine estate in Germany. It is an honour for us to be able to own and maintain the best locations in Franconia, for they are the foundation to our wines' individuality.
You will find all around our winery, the vineyard sites, our history and the Franconian region under the headings at the left side.
In our virtual wine shop you will find all details to our wines, pictures and the chance to buy comfortable and safe online.
Your Team J.
Visit us on facebook:

www.facebook.com/WeingutJuliusspitalWuerzburg